The Business Plan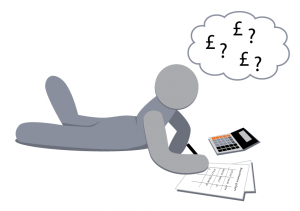 Raising finance to fund a business is one of the hardest tasks a businessman, experienced or new, ever has to do. Persuading anyone to part with their money is genuinely a tough job. The key to obtaining funding is the presentation – The Business Plan. 
If you are looking to raise money, and need top-quality help and support with compiling a business plan that works, look no further!
Effective Communication is a rare skill and is very important when attempting to let others know about your business. In creating a business plan it is absolutely vital, As the person with the concept, your enthusiasm knows no bounds. You will need all your enthusiasm to achieve your goals. However, sometimes that same enthusiasm can work against you. It may stop you from ensuring that the message you give is really the one that you want to be heard. This is where we can help you. We have over 20 years' marketing, financial and general management experience and skills, learned and honed in tough international markets. Working with International conglomerates, SMEs, government departments in the UK, Eastern and Western Europe, we have created, advised on, and implemented successful business plans.
The objective of your business plan is to enthuse and excite a potential investor, whether that is a Bank, venture capital organisation or a single private investors and not forgetting the new social lenders appearing in the marketplace. We will work closely with you to create a bespoke business plan. Our prices are simply packaged and tiered and we believe good value and should be considerably less than those charged by large accounting companies.
The process
 We try never to produce a plan without meeting the client face to face. It is essential that the client is an integral part of the process, and that it becomes 'their' plan. We will visit the client. If this is not possible then Skype and Facetime technology allows the next best thing.
2. One day is spent on informal familiarisation with the company, sketching the outline and discussing their vision of the business. 
3. The second day involves intensive collection of data, and producing a rough draft. 
4. Further time is spent at our offices, finalising the plan, and corresponding by email and telephone and web chat for final approval. 
The business plan would normally be ready as per the advertised timescales.
Pricing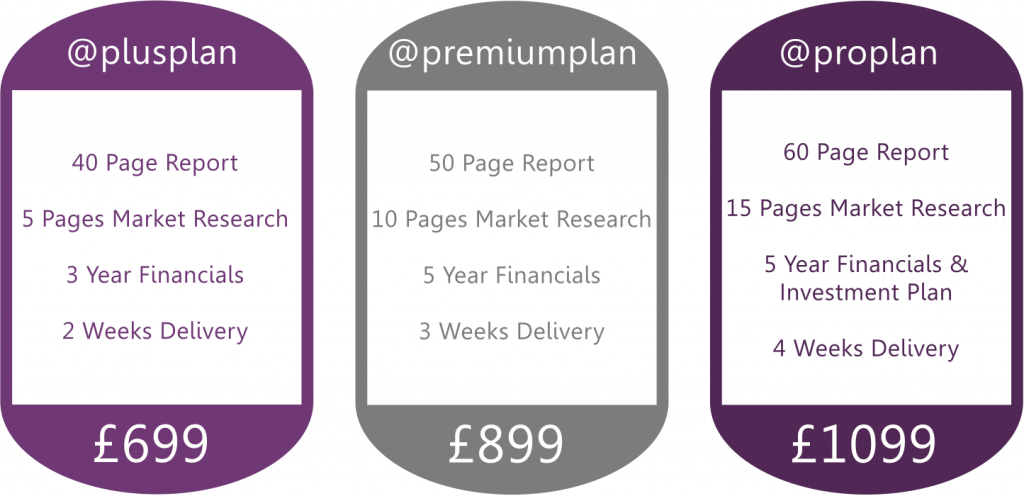 The Plan will be: –
FOCUSED: We will match your enthusiasm with an independent analytical approach to ensure that all the information that investors require is contained in your document. Attention to detail is absolutely essential. Although you must give a general background at the start of your presentation, it is vital that the detail concentrates on your product or services and the marketplace in which you envisage it being sold. Not only must all the necessary 'numbers' be included but also they must be correct!
CREDIBLE: To you, your idea is exceptional but is it credible? Have you really established that there is a market for your product or service? What research have you carried out and what evidence can you show? Are your 'financials' relevant, realistic, and correct? Obvious questions of course, but we have read so many business plans where numbers do not cross-reference and this always undermines investor confidence. We have also seen many inadequate business plans which have been rejected on sight by investors.
PROFESSIONAL: The appearance of your business plan is also important. It must contain only the necessary information that investors will require and it must look highly professional. It must be well written, easy to read, and grammatically correct. It must be neither too long nor too short, and must be free from 'padding'. We will be delighted to put our experience and expertise to your benefit. 
No-one can guarantee success but our track record is a positive one. We are not anonymous advisers; we work as part of your team. We never produce a business plan without trying to visit or speak in length over Skype or Facetime and getting to know the promoter face-to-face. That way, we get to understand you and your product/service very quickly. This is very important as funders invest in people, and part of the service we can offer is a mentoring role, giving coaching and guidance to enhance your presentation. (additional fees apply).